SAP FICO Training in Hyderabad
100% Placement Assistance
Best SAP FICO Training in Hyderabad Batch Details
| | |
| --- | --- |
| SAP FICO Training Fee | Rs 25,000 | ECC & S4HANA |
| SAP FICO Training Duration | 2 Months |
| SAP FICO Timings | Monday to Friday (Morning to Evening) |
| Next Batch Date | Every Saturday |
| Training Modes | Classroom [HYDERABAD] / Online |
| SAP FICO Server Access | 2 Months Free Server |
Key Points Of SAP FICO Training in Hyderabad
SAP FICO Training Curriculum
About SAP FICO Training in Hyderabad
As far as the SAP modules go, SAP FICO has to be the most significant. Among SAP ERP modules, SAP FICO is the best for Finance and Cost Control. CO stands for controlling, whereas FI refers to Financial Accounting in FICO. It is a very comprehensive module that can handle nearly all business operations across a wide variety of businesses. A large number of businesses throughout the world rely on it to streamline their business processes. 
There is a constant requirement for SAP FICO module specialists due to the strong demand for them.
A prominent SAP FICO training institute in Hyderabad has designed its SAP FICO module to provide students with all they need to master the skills and be ready for the business. IT, automotive, healthcare, oil and gas, consumer products, telecommunications and the government sector are just a few of the industries where FICO is used. If you're excellent at it, you'll be able to grasp the scopes. Our real-time and practical training transforms the student into a highly competent technical resource capable of competing with the market and offering optimal solutions to the client's problems. As a result of the course content, students will have a thorough understanding of the subject matter from basic to advanced levels of the SAP FICO module.
Why Choose My Learn Nest?
Numerous SAP FICO training in Hyderabad promise jobs and other perks to students. It's your talent and understanding that counts in the end, not your looks. To learn something well, you'll need great instruction and assistance from a qualified teacher.
Experienced SAP FICO instructors at MyLearn Nest make every effort to ensure that students learn the basics of SAP FICO. As a result of our excellence, we stand out from the crowd, and our success speaks for itself as well. Courses with real-time and placement-focused materials and criteria are what we provide.
SAP FICO Training At My Learn Nest:
As one of the top SAP FICO training institutions in Hyderabad, we offer thorough training regarding the SAP FICO module, given its relevance in many sectors and the market's need for such a skill-set. Since SAP's FICO is its lifeblood, we take every precaution to ensure that there are no lapses. One of our greatest faculty members and a fantastic person to learn from is an experienced faculty member and controlling certified with over 16 years of expertise across different sectors.
The curriculum and syllabus are designed with the industry's needs in mind, as well as the students'. Students may obtain good employment with strong knowledge thanks to interactive lectures, a lot of class notes and study resources, real-life situations and projects, tips and tricks to understand SAP FICO, and more. It is possible to choose between two alternatives for the course. One can select between a four-month standard course and a three-month fast-track course, depending on their schedule.
Placements At My Learn Nest:
FICO is one of our most popular and significant modules. Numerous sectors need highly qualified SAP FICO specialists as more and more firms use the SAP system owing to its benefits. 
We take every measure to ensure that there are no failures because SAP's FICO is its lifeblood. An outstanding professor who has more than 16 years of experience in a variety of industries is one of our best instructors and a valuable resource for students.
Benefits To Students :
High-quality, well-trained instructors guide students in all aspects of their education…

Flexible lesson schedules are offered.

Clarification of doubts.

Class notes, class material, and real-time requirements are available.

Assistance with finding a new job.

Work on projects and real-life circumstances.
SAP FICO Course Highlights:
Anyone interested in SAP FICO should attend this course, especially Finance, BTech or BCA graduates with programming and problem-solving abilities. With a focus on placement, the course equips students with all the necessary resources and capabilities to succeed in the profession. 
SAP FICO is one of the most popular courses in Hyderabad, and we have placed many of our students succeed in various organizations throughout the years.
Contact us to learn more about the training and what you can expect from us.
SAP FICO Training in Hyderabad
SAP trainers have extensive expertise providing classroom instruction at a number of Hyderabad locations, including KPHB, Mehdipatnam, and Dilshuknagar. These trainers also travel to MNCs and colleges to conduct specific training sessions on SAP FI and SAP CO.
The trainers are hired if they possess a passionate behaviour towards classroom training and also provide training assignments on SAP FICO in Hyderabad. All the trainers of FICO have an average of 12+ years of experience in SAP is the best training institute for SAP FICO through online and also classroom training.
The course trainers are taking assignments on SAP FICO training at Hyderabad in Madhapur, Ameerpet, Mehdipatnam, Dilshuknagar, Hyderabad and other cities for clients and individuals through online training and also classroom training. If you are looking for a classroom-based training you can approach our institute trainers and schedule a demo discussion before starting of the SAP training in Hyderabad.
Our well-experienced trainers can also provide web-based training for a short period of time which can vary from 7 days to one month based on the time availability of the trainees who would like to join the course.
SAP MM and SAP WM integration topics are taught by our expert trainers along with the SAP FICO course. 
During the course, a candidate can record the sessions and review it later for better understanding and practising the subject.
Once a student gets enrols for FICO online training batch he is given access to the server through SAP ABAP server access. During the course at our institute, our trainers will share their real-time experiences from their past work as a consultant and other integrated modules along with SAP FICO are discussed. This can help the students to attain knowledge through the training on real-time project SAP FICO Training in Hyderabad.
What is SAP-FI/CO?
The training in SAP FICO is a module which is used for external reporting and who can work on the domain area of financial accounting. SAP FICO caters to the requirements of a business organization. This training keeps in touch with the financial related transactions that are being occurred in business for a specific year.
SAP FICO training is very important for an organization to check the performance of the company. FI module is responsible to exhibit the financial reports. This course enables us to understand the financial status of an organization.
Who can learn this course?
A student who completed his/her  B.Com, M.Com, MBA(Finance Graduates), CA, who has been working on the accounts and finance department.
Modes of Training For SAP FICO Training in Hyderabad
Our course timings are flexible and user-friendly allowing a convenience for our students.
Complete Hands-On-Training
Practical real-time experience of SAP FICO  training with hands-on assistance. 
We have trained over 350+ students in SAP FICO with 150+ successful placements.
My Learn Nest does not charge additional or accessory charges or fees for any of the programs from the SAP training in Hyderabad.
We are led by a team of professional and certified Data Science expert trainers.
Our SAP FICO training syllabus consists of updated concepts and SAP to keep our students updated.
Enroll in our SAP FICO training in Hyderabad and get a certified course completion certificate.
You can enjoy lifetime access to our study material and LMS.
Testimonials of SAP FICO Training in Hyderabad
SAP FICO Training Certification
After completing the course, you will be provided a certificate from our My Learn Nest Academy which will help you for your interview purpose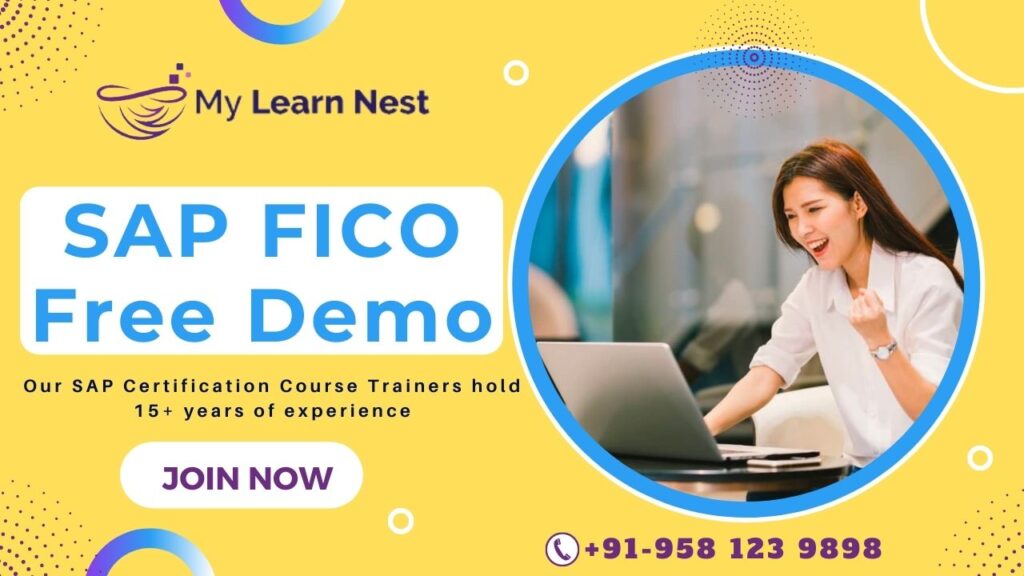 Advantages of learning SAP FICO Training Program
SAP FICO Course in Hyderabad offers structured and tailored training to improvise the applied skills by providing all the prerequisite technical training required to master SAP course for a better job experience and accountability. 
At the completion of the course you will get experiential knowledge in –
Job Opportunities in SAP FICO
Why We Choose My Learn Nest:
My Learn Nest is the best online training institute in Hyderabad India. It is the one of the best training institute in Hyderabad Which we offer the Trainings on Student Convenience in the best way. We are providing the quality education at affordable price. Our motive is to make students learn with confidence. We provide the quality teaching to students. Our training courses are available for all levels of students. We also provide the free demo classes to students for their first time. Our training sessions are interactive which makes students learn easily. Our training content is updated regularly. We have designed the courses to help students to become professionals. We provide the best learning platform to our students. Our course topics are based on the industry standards.
What if I miss any class?
We will arrange backup classes for you or you can also join the next live session conducted by the same trainer to catch up with the pending work.
Will I get a placement assistant?
Yes, ofcourse. We provide placement assistance to the students enrolled in our batch along with resume preparation, mock interviews etc.
Can I attend a demo session before enrollment?
Definitely. We offer a free SAP Course demo class in Hyderabad at our My Learn Nest. This will help give you a better idea of the course.
Who are the trainers at SAP Course training?
The SAP Course trainers are professionals with 10+ years of working experience. They use high-end training methods to train the students effectively for a good learning experience.
Who Are Eligible For The SAP Training Certification Course:
It is not necessary to have a particular degree to sit for SAP certification. Every graduate can apply to this course certification like Bachelor of Technology (B.Tech), Bachelor of Computer Science (BCom) and Post-Graduates. Anyone can apply for this certification. Every graduate has to meet certain eligibility criteria and pass the test, in order to sit for the exam. The eligibility criteria include holding a minimum of four years of experience in an SAP environment, having a minimum of two years of experience in any one SAP module, or having at least 12 months of full-time experience in any module.
What if I have more queries?
You can always reach out to our team via the contact details provided on our website. We have a fast responsive team who will revert back at the earliest.
Will I get proper practical training in SAP Course?
Yes, you will get hands-on real time practical exposure to SAP Course during the training program. We use case studies to teach all the core concepts of SAP for the students to get a revised understanding of the course
How much salary can I expect in the field of SAP Course?
Salary depends and it may differ on the level of your experience. It starts with 3 LPA to 15 LPA or more depends on your skill set and experience.
What are the prerequities to learn SAP course in Hyderabad?
There are no such prerequisites to learn SAP course, Any graduate with a good communication skill, problem-solving capabilities,Computer science engineers, People with hands-on coding skills, sap, People who are good at programming would be grate to join the SAP Training course in Hyderabad.