Best SAP PP course in Hyderabad
100% Placement Assistance
Best SAP PP Course in Hyderabad Batch Details
| | |
| --- | --- |
| SAP PP Course Fee | Rs 25,000 | ECC & S4HANA |
| SAP PP Course Duration | 2 Months |
| SAP PP Timings | Monday to Friday (Morning to Evening) |
| Next Batch Date | Every Saturday |
| Training Modes | Classroom [HYDERABAD] / Online |
| SAP PP Server Access | 2 Months |
Key Points Of SAP PP Course in Hyderabad
About SAP PP Course in Hyderabad
This application is one of the world's most frequently utilized in virtually all sectors. One of the most essential modules in ERP, SAP PP or production planning, is the SAP PP module. Materials planning, capacity planning, execution of production orders, billing materials and products transportation are just a few of the planning operations that are handled by SAP PP. Because it controls and keeps records of manufacturing process flows, SAP PP training in Hyderabad is quite significant. Several additional SAP modules such as the SD, MM and QM modules as well as FICO and PM are fully connected with the PP module of SAP.
There are several elements in SAP PP that aid with production planning in every sector, making it a valuable talent in today's market. There are a lot of opportunities if you can master the software properly. As a result, a large number of people are choosing to study SAP PP.
Why Choose My Learn Nest?
In Hyderabad, MY LEARN NEST is one of the top SAP PP training institutions. With this subject, students will learn about SAP Production Planning (PP) and how it is utilized in various sectors to plan production. We give SAP PP training in Hyderabad that is both practical and job-oriented. A number of our students have been placed in MNC's as a result of our training. Soft copies of content, classroom material, and real-time specifications are available to students at no cost to them through our website.
How Is My LearnNest Helpful With The Course?
With years of industry expertise, MY LEARN NEST'S faculty is highly qualified and trained. Classes are highly flexible, and the teaching approach is very helpful. Because of our quality sessions and practical application, we are one of the top SAP PP training in Hyderabad. In Hyderabad, there are several SAP PP training institutes. Nevertheless, we stand out because of our excellence and our relationship with other multinational corporations. Invest in your career with us and you'll be working for a reputable multinational corporation (MNC).
Who Is The Course For?
For this course, B.tech/BCA graduates with a strong understanding of programming and problem-solving skills are excellent.
SAP PP Career Scope :
Throughout the country, there is a huge demand for SAP PP specialists with the necessary skills. Companies are on the lookout for experts that are well-versed in their fields and can offer solid outcomes. Once you have completed the course, you may apply for a position as an SAP PP technical consultant, which pays highly.
Over the years, we've built a reputation for ourselves based on our successful SAP training programs.
Numerous students have found fantastic employment after studying from us and are glad they made the right decision.
Our goal is to provide our students with the finest possible education and prepare them for the workforce. As a result of our efforts, we have become one of the finest SAP PP training centres in Hyderabad. Inquire about working at SAP PP and getting the most out of your experience with us.
Modes of Training For SAP MM Course in Hyderabad
Our course timings are flexible and user-friendly allowing a convenience for our students.
Complete Hands-On-Training
Practical real-time experience of SAP PP  training with hands-on assistance. 
We have trained over 350+ students in SAP PP with 150+ successful placements.
My Learn Nest does not charge additional or accessory charges or fees for any of the programs from the SAP PP training in Hyderabad.
We are led by a team of professional and certified SAP PP expert trainers.
Our SAP PP training syllabus consists of updated concepts and SAP to keep our students updated.
Enroll in our SAP PP training in Hyderabad and get a certified course completion certificate.
You can enjoy lifetime access to our study material and LMS.
Testimonials of SAP PP Training in Hyderabad
SAP PP Course Certification
After completing the course, you will be provided a certificate from our My Learn Nest Academy which will help you for your interview purpose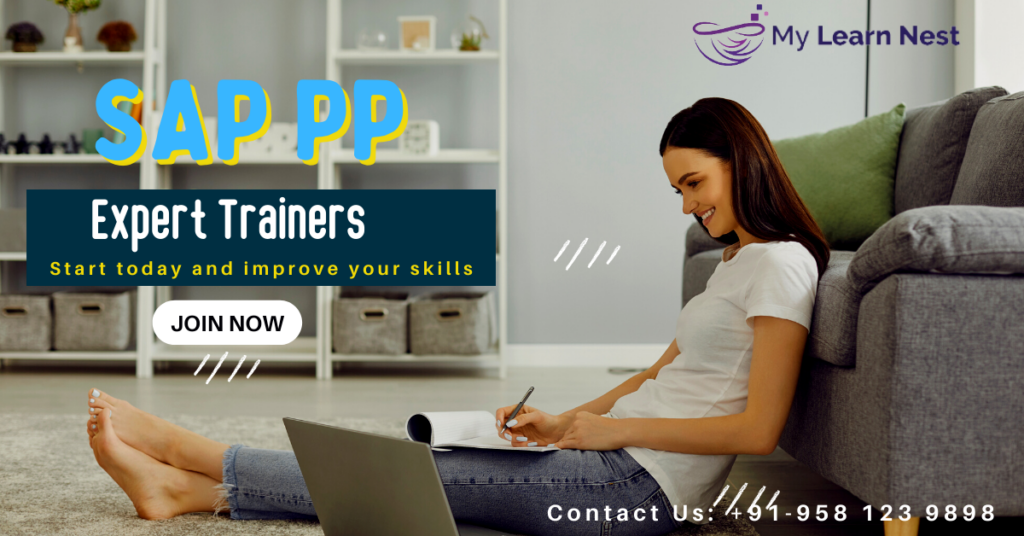 Advantages of learning SAP PP Training Program
One of the leading SAP PP Training Institutes in Hyderabad that offers an array of courses for students with varying needs.
At the completion of the course you will get experiential knowledge in –
Job Opportunities in SAP PP
Why We Choose My Learn Nest:
My Learn Nest is the best online training institute in Hyderabad India. It is the one of the best training institute in Hyderabad Which we offer the Trainings on Student Convenience in the best way. We are providing the quality education at affordable price. Our motive is to make students learn with confidence. We provide the quality teaching to students. Our training courses are available for all levels of students. We also provide the free demo classes to students for their first time. Our training sessions are interactive which makes students learn easily. Our training content is updated regularly. We have designed the courses to help students to become professionals. We provide the best learning platform to our students. Our course topics are based on the industry standards.
What if I miss any class?
We will arrange backup classes for you or you can also join the next live session conducted by the same trainer to catch up with the pending work.
Will I get a placement assistant?
Yes, ofcourse. We provide placement assistance to the students enrolled in our batch along with resume preparation, mock interviews etc.
Can I attend a demo session before enrollment?
Definitely. We offer a free SAP Course demo class in Hyderabad at our My Learn Nest. This will help give you a better idea of the course.
Who are the trainers at SAP Course training?
The SAP Course trainers are professionals with 10+ years of working experience. They use high-end training methods to train the students effectively for a good learning experience.
Who Are Eligible For The SAP Training Certification Course:
It is not necessary to have a particular degree to sit for SAP certification. Every graduate can apply to this course certification like Bachelor of Technology (B.Tech), Bachelor of Computer Science (BCom) and Post-Graduates. Anyone can apply for this certification. Every graduate has to meet certain eligibility criteria and pass the test, in order to sit for the exam. The eligibility criteria include holding a minimum of four years of experience in an SAP environment, having a minimum of two years of experience in any one SAP module, or having at least 12 months of full-time experience in any module.
What if I have more queries?
You can always reach out to our team via the contact details provided on our website. We have a fast responsive team who will revert back at the earliest.
Will I get proper practical training in SAP Course?
Yes, you will get hands-on real time practical exposure to SAP Course during the training program. We use case studies to teach all the core concepts of SAP for the students to get a revised understanding of the course
How much salary can I expect in the field of SAP Course?
Salary depends and it may differ on the level of your experience. It starts with 3 LPA to 15 LPA or more depends on your skill set and experience.
What are the prerequities to learn SAP course in Hyderabad?
There are no such prerequisites to learn SAP course, Any graduate with a good communication skill, problem-solving capabilities,Computer science engineers, People with hands-on coding skills, sap, People who are good at programming would be grate to join the SAP Training course in Hyderabad.