Kubernetes Training in Hyderabad
With 100% Placement Assistance
Kubernetes Training in Hyderabad Batch Details
| | |
| --- | --- |
| Kubernetes Course Fee | 20,000 Rs |
| Kubernetes Course Duration | 2 Months |
| Kubernetes Timings | Monday to Friday (Morning to Evening) |
| Next Batch Date | Every Saturday |
| Training Modes | Classroom [HYDERABAD] / Online |
| Kubernetes Server Access | 3 Months |
Key Points Of Kubernetes Training in Hyderabad
Kubernetes Course Curriculum
About Kubernetes Training in Hyderabad
ABOUT SNOWFLAKE TRAINING IN HYDERABAD – ONLINE TRAINING
This particular course is a 1 month advanced training program on the Snowflake. Snowflake is the best cloud based data warehousing & analytics tool. It is very unique in its approach and design hence most large sized organizations started to use this tool. The number of job openings on snowflakes are high these days as the tool started to emerge. The number of vacancies are expected to increase even more as the tool grows and more organizations start to adapt to Snowflake.
Looking to get placed on a snowflake? Want to master snowflakes?
If yes, you are in the right place. Learning any tool is actually easy if you have the right mentor that can train you. We at My Learn Nest from Hyderabad have got expert trainers that can train you and help you crack the dream job. Snowflake is a special application that is much faster than the other competitive data warehousing as it works on Big data unlike others that work on Big Data.
The main advantage in snowflakes is that the users can track the changes in date over a date range of up to 90 days. You can go back in time up to 90 days and look at the changes that are made. We are the leading Snowflake training in Hyderabad with more than 80% success rate in placing the students in various companies.
10 Key Points of Snowflake Training in Hyderabad
We have produced more than 90+ Snowflake Professionals in the last 3 months. (Dec 2021, Jan 2022 & Feb 2022)

Live Training sessions led by expert instructors both for individuals & Corporates.

Our panel of trainers are certified Experts with min 15+ years of industry experience.

We have also worked as training partners for many corporates across the globe.

Not just live sessions, we help you get live practical exposure through our tasks & assignments.

We get everyone covered. We offer online classes, Classroom training & self paced recorded sessions.

If you enroll our snowflake online training program (instructor led live training sessions) after the live session we also provide you the video recordings of the session.

You get 20+ sessions of Live Training + Certification Dumps + Trainer special Notes + Video recording of the course all in a single package

We guide you through the practical sessions & Doubts. Helps you create your resumes.
Why choose to enroll in our Snowflake Training in Hyderabad
Expert Trainers
Our trainers are masters in what they do. They can train you with real time live project experience they carry.
Certification
Not just training. We will also help you write the certification exams and clear them with ease.
Placement Assistance
Along with training you will also get support from us in terms for interview preparation, Creating resumes. You will get our complete support till you are placed with the kind of job you are looking for.
Live practical Training
Learning just theory can't take you long. Our Snowflake course contains live project practical demonstration. so you are clear with happens in work environment.
Snowflake Certification
Show the world that you have pursued one of the best in the industry.
Shall I appear for the Snowflake certification exam after completion of the Snowflake course?
Our Snowflake course covers all the topics that are required to clear Snowflake certification. Trainer will share Snowflake certification guide, Snowflake certification sample questions, Snowflake certification practice questions.
What is Snowflake certification?
Snowflake certification is designed for professionals who want to demonstrate their expertise in implementing and migrating to the Snowflake.
What are the available certifications of Snowflake?
Following are the available certifications of Snowflake;

SnowPro core certification

Snowflake Partner certification

Snowflake Associate Architect Certification

Snowflake Data Warehouse certification

Snowflake Cloud Data Warehouse certification
What is the cost and process of the Snowflake certification?
The cost of SnowPro core certification is $175.

The SnowPrp core certification exam duration is 115minutes.

The passing score of the SnowPro core certification is 75%. 
Modes of Training For Kubernetes training in Hyderabad
Our course timings are flexible and user-friendly allowing a convenience for our students.
Complete Hands-On-Training
Practical real-time experience of Kubernetes training with hands-on assistance. 
We have trained over 350+ students in Kubernetes training with 150+ successful placements.
My Learn Nest does not charge additional or accessory charges or fees for any of the programs from the Kubernetes training in Hyderabad.
We are led by a team of professional and certified Kubernetes training expert trainers.
Our Snowflake training syllabus consists of updated concepts and Kubernetes to keep our students updated.
Enroll in our Kubernetes training in Hyderabad and get a certified course completion certificate.
You can enjoy lifetime access to our study material and LMS.
Testimonials of Kubernetes Training in Hyderabad
Kubernetes Training Certification
After completing the course, you will be provided a certificate from our My Learn Nest Academy which will help you for your interview purpose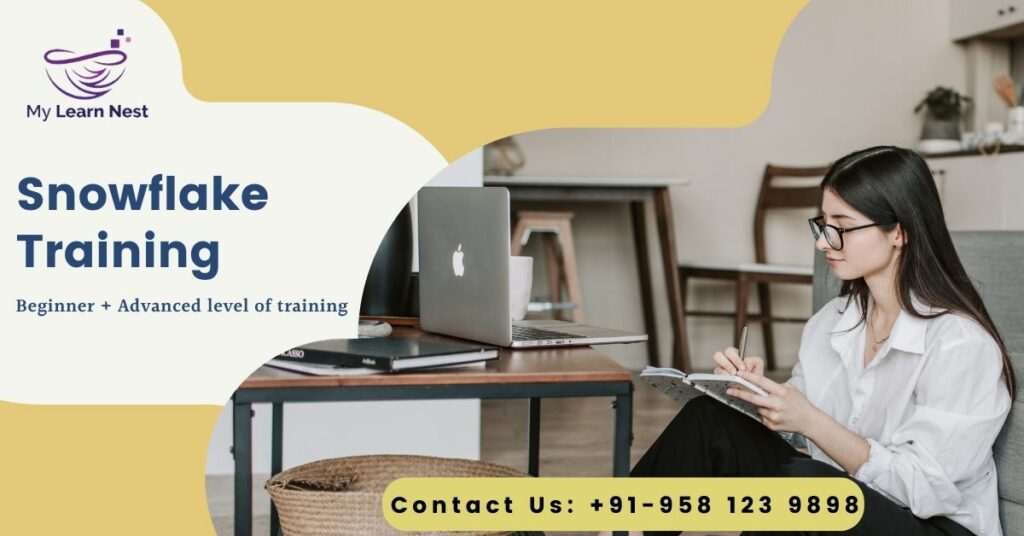 Advantages of learning Kubernetes Training Program
My Learn Nest is one of the best snowflake training institute in Ameerpet Hyderabad with industry experts trainers. we have bee doing best in snowflake training over past 3 years and till now we successfully trained 800+ students across Hyderabad and Telangana we provide snowflake placement assistance, snowflake certification and support. join today in snowflake masters we will provide e book and right skill set and make you ready for real-time challenge.
Benefits of this course
One Year Support

Live Projects

Snowflake Training Certification

Job Oriented Sessions

Mock Interviews

Backup Class

Snowflake Placement Program
Job Opportunities in Snowflake
Snowflake Data Warehouse Application Developer

Snowflake Developer

Data Engineer

AWS Data Architect with Snowflake

Snowflake Developer with Capgemini
FAQ's Snowflake Training in Hyderabad
Who can opt for Snowflake Training?
Anyone who wants to learn about the Snowflake analytics tool and wants to get placed on a project using this tool. The course is designed for beginners, intermediates and advanced-level professionals
Do I need any prior technical Knowledge to learn Snowflake?
If you have some SQL background then it will easy for you to learn snowflake. However, we will arrange a few additional sessions to train you on basics.
Who will be my Trainer?
You will be trained by our team of highly experienced and Certified Trainers. All the trainers have more than 15+ years of experience in the field of data warehousing and analytics.
What are the different Snowflake Training programs you provide? 
We offer remote online training, self-paced(video course) training, and a snowflake placement training program.
Will I get any course completion certificates from Snowflake Online Training in Hyderabad?
Yes, all our trainees will receive a Snowflake course completion certificate after the end of the course. And, you can definitely use these certificates as a proof in your job portfolios as this certificate will help you make yourself more marketable.
How long does it take to become proficient in using Snowflake?
It all depends on you. The speed at which you learn the tool is entirely up to you. Some people learn in a day and some others may take more than a month. It all depends on your dedication and commitment. We will be happy to provide you with a personalized schedule that will help you achieve your goeries.
Modes of Training for Snowflake Training
Classroom Snowflake Training in Hyderabad
You can attend our Snowflake training in Hyderabad sitting in the class at the branch nearest to you.
Snowflake Online Training (Instructor-led sessions)
Wherever you are in the world. We got you covered. You attend our classes online and learn Snowflakes from the masters.
Self-paced Recorded Video Course
Learn at your own speed. You get the complete set of class recordings that you can access for a lifetime from anywhere and on any device.
Corporate Training
My Learn Nest Provides Corporate Training and Workshops to Employees and Management Staff Members on Corporate Skills, Snowflake skills, and Software skills.
At the completion of the course you will get experiential knowledge in –
Job Opportunities in Kubernetes
Kubernetes Training FAQ's
Why We Choose My Learn Nest:
My Learn Nest is the best online training institute in Hyderabad India. It is the one of the best training institute in Hyderabad Which we offer the Trainings on Student Convenience in the best way. We are providing the quality education at affordable price. Our motive is to make students learn with confidence. We provide the quality teaching to students. Our training courses are available for all levels of students. We also provide the free demo classes to students for their first time. Our training sessions are interactive which makes students learn easily. Our training content is updated regularly. We have designed the courses to help students to become professionals. We provide the best learning platform to our students. Our course topics are based on the industry standards.
What if I miss any class?
We will arrange backup classes for you or you can also join the next live session conducted by the same trainer to catch up with the pending work.
Will I get a placement assistant?
Yes, ofcourse. We provide placement assistance to the students enrolled in our batch along with resume preparation, mock interviews etc.
Can I attend a demo session before enrollment?
Definitely. We offer a free Kubernetes Course demo class in Hyderabad at our My Learn Nest. This will help give you a better idea of the course.
Who are the trainers at Kubernetes Course training?
The Kubernetes Training trainers are professionals with 10+ years of working experience. They use high-end training methods to train the students effectively for a good learning experience.
Who Are Eligible For The Kubernetes Training Certification Course:
It is not necessary to have a particular degree to sit for Kubernetes certification. Every graduate can apply to this course certification like Bachelor of Technology (B.Tech), Bachelor of Computer Science (BCom) and Post-Graduates. Anyone can apply for this certification. Every graduate has to meet certain eligibility criteria and pass the test, in order to sit for the exam. The eligibility criteria include holding a minimum of four years of experience in an Snowflake environment, having a minimum of two years of experience in any one Kubernetes module, or having at least 12 months of full-time experience in any module.
What if I have more queries?
You can always reach out to our team via the contact details provided on our website. We have a fast responsive team who will revert back at the earliest.
Will I get proper practical training in Kubernetes Course?
Yes, you will get hands-on real time practical exposure to Kubernetes Training during the training program. We use case studies to teach all the core concepts of Snowflake for the students to get a revised understanding of the course
How much salary can I expect in the field of Snowflake Course?
Salary depends and it may differ on the level of your experience. It starts with 3 LPA to 15 LPA or more depends on your skill set and experience.
What are the prerequities to learn Snowflake course in Hyderabad?
There are no such prerequisites to learn Kubernetes Training, Any graduate with a good communication skill, problem-solving capabilities,Computer science engineers, People with hands-on coding skills, Kubernetes, People who are good at programming would be grate to join the Kubernetes Training course in Hyderabad.